Pulsatile Tinnitus, Possibly a Side Effect of Medication?
It's a question many of us ask, especially when our pulsatile tinnitus began simultaneous to use of medication, prescribed or over-the-counter.
There haven't been too many studies on this possible relationship to pulsatile tinnitus cases, generally, but one recent study looks specifically at fluroquinolone antibiotics, a specific family of medications, and the possible relationship of their use to one specific known cause of pulsatile tinnitus: idiopathic intracranial hypertention (IIH).
This recent study looks at a variety of the drugs in this category, including Levaquin. This summary reveals the process by which researchers searched databases for patients whose files indicated within a short period of time the ICD code for IIH, imaging and other diagnostic testing that would confirm an IIH diagnosis, as well as a prescription for the drugs within 15-30 days of the IIH diagnosis.
Basically, the study suggested an increased risk of IIH for users of this family of medications.
These medications are no stranger to lawsuits, apparently. Just Google "Fluoroquinolone Litigation" and you'll see the reports.
Now that pulsatile tinnitus has its own ICD code, the potential for monitoring our cases has improved. SO MUCH. However, we see even in this report that pulsatile tinnitus is mentioned at the beginning of the abstract but then, it seems, it is referred to as tinnitus at the end of the abstract. Pulsatile tinnitus is not tinnitus!
It may take a while for the pulsatile tinnitus code to be integrated generally and in similar research studies, but we see in this study the signficance of proper identification of symptoms to research, and the possibility that medications may play a factor in some pulsatile tinnitus cases, at least as they relate to this possible underlying cause.
As usual, consult a doctor with any questions about medications.
Source: Oral fluoroquinolones and risk of secondary pseudotumor cerebri syndrome; Mohit Sodhi, BSc, Claire A. Sheldon, MD, PhD, Bruce Carleton, PharmD and Mahyar Etminan, PharmD, American Academy of Neurology, Jul 2017.
Wed, August 2, 2017 | link
Texas Reporter Shares Her Pulsatile Tinnitus Story and Diagnosis: Chiari Malformation
Click HERE to read her interesting story about being diagnosed with Chiari Malformation, one possible pulsatile tinnitus cause. It all started with pulsatile tinnitus...
Jenni, thank you for sharing your story and for increasing awareness of our symptom and for Chiari. We wish you the best as you return to work!
If you are in the Austin, Texas area and reading this in late July 2017, she'll be sharing more of her story on the air July 29 and 30, 2017.
For more information about Chiari see:
Chiari Connection International
If you are experiencing pulsatile tinnitus, don't forget that there is a large community of pulsatile tinnitus "Whooshers" on our active Facebook group page, including some diagnosed with Chiari. You're not alone!
Wed, July 26, 2017 | link
Learn More About Fibromuscular Dysplasia (FMD)!
I'm happy to be speaking about pulsatile tinnitus in Cleveland this weekend at the 10th Annual FMDSA Meeting! Learn more about Fibromuscular Dysplasia, one possible cause of pulsatile tinnitus. Click the informative video link below.
Wed, May 17, 2017 | link
Best Pulsatile Tinnitus Cartoon Ever
Thanks to a fellow Whoosher in our active Facebook group page for sharing this cartoon!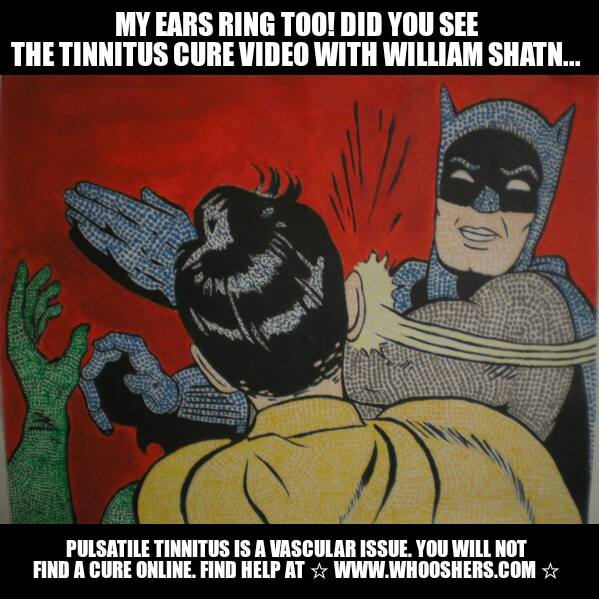 Thu, March 2, 2017 | link
How To Listen for a Bruit Using a Stethoscope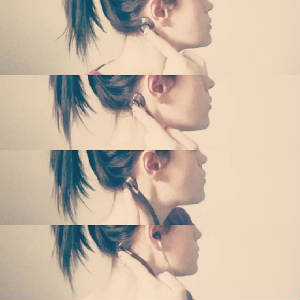 Pulsatile tinnitus may be subjective (only the patient can hear it) or objective (the patient AND others can hear it).
Sometimes objective pulsatile tinnitus can be heard with a stethoscope.
Sometimes it can even be heard without a stethoscope, just by putting your ear next to the pulsatile tinnitus patient's head.
It is repeated in the medical literature that doctors should try to listen for the bruit (the sound) when a patient presents with pulsatile tinnitus. Sometimes where the sound is located can be a clue as to the source. At the very least, hearing the sound gets the attention of medical professionals and may speed up the inquiry as to the cause.
The right spot for the stethescope bell will vary by the patient, as the location of the source of the pulsatile tinnitus differs from patient to patient.
Here is a very helpful post with images from "Kate," one of the members of our very active Facebook group page, republished with her permission, on how to listen for the bruit with a stethoscope:

"I made this to show where my bruit can be heard on my skull.
In December 2016 I was told by an ER doctor, when I asked him to listen to my skull,
"We don't listen there. There's nothing there to listen to."

He would only auscult my carotid on my neck and then told me my symptoms could be Meniere's or multiple sclerosis and they can't do much for me except refer me to an ENT.

My personal experience/tips, as I am not a medical professional so I'm just sharing what worked for me to find the objective noise:

The stethoscope is a pediatric stethoscope. The person I borrowed this from let me try their fancy top brand cardiac stethoscope but the pediatric one worked best. It helps to press firmly but not too firmly. The sound volume changes with pressure. I can find it easily but in noisy doctor offices it can be harder to hear and especially if the person listening just quickly places the bell and moves it. It's louder in certain spots so patience and careful listening for at least 10 seconds in each spot is important in my opinion. Also, doing jumping jacks to make it louder helped my doctor the first time to find it. The second time she didn't need me to do jumping jacks because she knew what she was listening for.

As Whoosh Whoosher has said, not everyone with PT has objective PT/bruit and the absence of one doesn't change the validity of your PT. Docs should take all PT seriously. In my experience, finding the bruit just really helped as far as having them take it seriously and sped up the process.

Make sure you check with different postures and head positions in case the whoosh varies by these factors. For example, mine is usually silent/quiet/gurgly when laying flat, louder when tilting head to opposite shoulder of PT ear and quieter when tilting head to PT ear.
I really think the important things are to have a silent place to listen, a patient listener, and a good, smaller-sized stethoscope (which also helps very specifically locating the loudest point).



Other factors, once I found my whoosh, that I noticed influence the sound are things like valsalva maneuver, holding breath, pressing artery/veins, etc. I've experimented with pressing on my carotid and jugular on both sides as well as the blood vessel on the back of my neck which I think might be the occipital artery.




I am hoping this information will be useful for the doctors and perhaps clue them to anatomical areas to focus on when looking at my scans."
Be sure to see the
Sounds page
on this site for more images and links to audio of real whoosh sounds, recorded by real whooshers!
Sat, February 25, 2017 | link
Peter Mansfield, M.R.I. Pioneer and Nobel Laureate, Dies at 83
Sometimes it's easy to forget that we are indebted to some of the pioneers in medicine who take a chance and create something that will endure their lifetimes and help more people than they ever could have imagined!
Sir Peter Mansfield, whose research led to the invention of MRI, died February 8, 2017.
While an MRI can't detect each and every possible cause of pulsatile tinnitus, it can detect many of them. A number of people in our community, including Yours Truly, are pretty glad Sir Mansfield was born!
Read more about Sir Peter Mansfield's amazing life and discoveries here, from the New York Times.
"Peter Mansfield, M.R.I. Pioneer and Nobel Laureate, Dies at 83," New York Times, February 11, 2017.
Sat, February 11, 2017 | link
"Pulsatile Tinnitus: Differential Diagnosis and Radiological Work-Up"
Here is a report to start off the new year! A few things to take away, which we already knew but are nicely laid out in the report:
*Over 70% of pulsatile tinnitus causes can be identified.
*High resolution machines should be used if possible.
*No single modality (test) can rule out every possible cause.
"Pulsatile Tinnitus: Differential Diagnosis and Radiological Work-Up," Pegge, S.A.H., Steens, S.C.A., Kunst, H.P.M. et al. Curr Radiol Rep (2017) 5: 5. doi:10.1007/s40134-017-0199-7
Tue, January 31, 2017 | link
UCSF Pulsatile Tinnitus Research Study Survey
If you are a whoosher over the age of 18, please complete THIS SURVEY put together by doctors at the UCSF Pulsatile Tinnitus Clinic. It only takes about 10 minutes!
From the survey page:
We are conducting this survey to better understand the impact that pulsatile tinnitus has on people's lives in terms of depression, anxiety, and function. We hope that this information will help guide us in terms of providing better care for our patients and raising awareness of pulsatile tinnitus as an illness.
Sat, December 3, 2016 | link
SleepPhones Holiday Sale!
Use code SILENTNIGHT for 25% off US orders of $50 or more. Includes free shipping. Using this link your order will provide a portion of proceeds to our Whooshers.com community! Good through Friday, December 2, 2016!
Sun, November 27, 2016 | link
Pulsatile Tinnitus Publicity: "A Quest to Explain the Whooshing in Her Head"
This story was also picked up by PBSNewsHour.
Great publicity for our community and for our new pulsatile tinnitus medical codes.
Sat, October 29, 2016 | link